Lessons from Abbey
Where there is great love in life there is also great pain and grief when our loved one's pass.  Losing anyone is never easy, but there is a certain ache in the heart when we have to say goodbye to a fur kid in the family.
Fur Kids are always there for us. Not caring if our hair and makeup looks good, or if we are gifted at sports or even academically.  They are not concerned about how much we make, or what we do for a living. They only want our companionship and to love us.
They love us when we are well, and stand by us when we are not.
And if dealing with an ongoing or chronic illness—a pet's support may be just what the doctor ordered.

When friends, family or co-workers may sometimes need a break from from our illnesses, a pet's unconditional acceptance is a gift that is timeless.
One of our readers graciously shared this story with us and when we read her words, we wanted to share them with you.
From Abbey's Mom: Kathy Jones
Abbey was my 4 pound, tortoise shell kitty. And I had the pleasure of having her in my life for over 16 years.  We always thought she had the heart of a lion, as there were several occasions where Abbey (more affectionately known as "Ab the Crab" or "Crabcake") would have to ward off evil. Once we had a wolf hybrid dog show up. My 4 pound kitty, puffed up and began to jump up and down (about 5-6 feet off the ground) trying to scare off the 130 pound +/- wolf. The wolf hybrid didn't want anything to do with her!!!
Another time while we were living in Glenwood, Colorado, we had a mama skunk that would cruise the neighborhood with her 7 babies trailing behind her. Of course, Abbey did not like this either. As they came strolling across the deck, Abbey thought they crossed a boundary and decided to take matters in her own hands again. (Of course we were freaking out, as we did not want her to get sprayed). The skunk and Abbey touched each others noses…. then the mama skunk made a detour with her children… and went around.

She traveled with me for work, staying in a Holiday Inn room for 5 months in California  and she also traveled to Texas, when we worked in Plano. Through my very sick years, of laying on the bathroom floor for hours at a time (trying to keep my medication down), that little cat would stay in the bathroom with me. Occasionally licking my hand, just to let me know she was still there.
So after much agonizing, we decided not to put her thru anymore testing of needle pricks, or office visits and decided she'd earned her right to retire and lay down. So I made "the call".
On March 15, I sat with her all day, stroking her frail little body, just to let her know I was still there. The vet came late afternoon.  I dug her grave in special place in my flower garden as so to honor her little life.  And as I reflected on our journeys together, I realized that I learned some of life's greatest lessons of loyalty, courage and love…  from a 4 pound, invincible, tortoise shell kitty, named Abbey.
We miss her very much!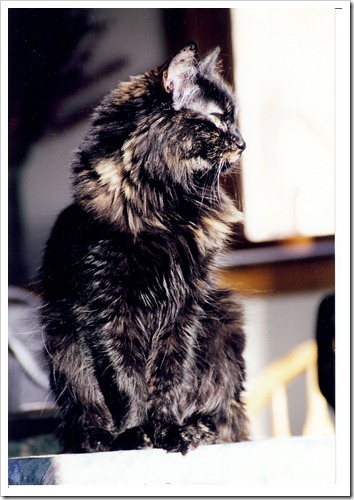 In Loving Memory of Abbey Jones