The Best Medicine Comes from the Heart
In the spirit of the holidays HospitalSoup.com would like to take a step back and to remind everyone to treasure the moments in life that matter. It's not about how many gifts you give or get, but the meaning of the season that makes it special.  And because so many times in the business of healthcare we hear stories about caregivers or facilities that are less than optimal, today we'd like to say that there are exemplary healthcare facilities out there. And what makes a great institution even better is not only the skills of the medical professionals and support staff that work there, but how technology and caring can come together to give a gift is not only priceless but timeless as well.
Presenting Becky's Story
He was in the army and missing the girl he loves. She was finishing her masters and looking forward to the day he returns. Two weeks after he came home, they both found out that their future had already been written all along: she had metastatic cancer and she did not have much longer to live."We met when I was deployed. That was difficult. Our original plan was to get married in Ohio where's she's from. But one day she got really sick, and that's why we came here," Stephen Freeman, Becky's husband said.
'Here' was Phoenix Baptist Hospital, an Arizona Hospital, where Rebecca D'Ambrosia Freeman  "Becky" was hospitalized, and the Family Medicine Residency Program Director, Dr. Wendy Orm had to be the messenger of the bad news. "I went into talk to Becky and her family, and it was very evident to me that they knew but they hadn't had the chance to put the pieces together," Dr. Orm, Becky's attending physician said. "You don't usually see a person this young with metastatic cervical cancer," she added.
Metastatic cancer is when the disease has spread beyond its initial site. In Becky's case, her cancer had spread from her cervix and corroded her stomach. On the other hand, cervical cancer is the most common cancer that afflicts women worldwide.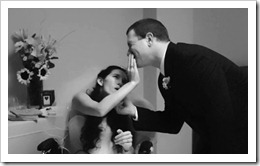 The Last Wish
Becky D'Ambrosia Freeman died at age 27, but her story was not one of tragedy of a young woman fighting a battle she was too young to lose. Her story is one of hope and compassion of how complete strangers can go far and beyond duty to grant a woman her last wish. How one can find a family in the most unlikely of places and how places like hospitals can provide more than just medical care, they can be a home and haven as well.
What Becky and her then fiancé Steve wanted the most was to get her well enough to travel back to Ohio and get married. Her physician, the hospital and those attending to her wanted to help her and let her have this wish.
"We made a goal, and I really, truly believed that we would meet that goal. And that was to get her pain controlled, to get her strong and nourished and back on her feet and get her strong enough to travel home," Orm explained.
The Phoenix Baptist Hospital became more than just a hospice for the D'Ambrosia family: they became a second family. "Everybody who was involved in taking care of Becky was just absolutely phenomenal. I had never seen care like that," Stephen expressed.
Despite the support and the care the hospital had provided however, Becky's Ohio  wedding was not to be. The cancer had decided otherwise.
It took the family several days, but finally they decided to have the wedding at the Arizona  hospital's chapel instead.
"(We) asked our CEO Ken Howell if we could support an event such as a wedding at our chapel and he said let's do whatever we can." Orm enthused.
"We don't usually get that kind of request, to have a wedding at a hospital. But the whole team jumped in, from housekeeping, dietary, clinical team…to make that request come true," Howell said of his staff's response to the request.
"There wasn't anything we can do to help her live longer. But to be able to help her live out her dream meant a lot to me personally," Jolene Lutes, the hospital's marketing director explained on why the hospital staff wanted to help Becky.
The Wedding
And so instead of making funeral plans, the hospital and the D'Ambrosia family was abuzz with wedding preparations.
"Everybody here in the hospital just pooled together and made it possible, it was just like having a dream come true," Stephen expressed with a smile.
Becky glowed on her wedding day in white gown and tiara. And even though she had to sit through the event in a wheel chair, nothing stopped her from having her first dance with her husband whose smile never dimmed during the entire ceremony.
"Becky gleamed that day, she really lit up in that dress," said her mother. "She and Steve had been dating for over two years. He proposed at her bedside. People did everything they could to make it happen."
"The hospital volunteers even provided a guest book and brought in a portable keyboard for me to play at the ceremony," added her father. It was one of her dreams to be able to get married."
But no one in the world could be happier that day than Becky.
"It was the happiest day of my life," said Becky. "The hospital went out of their way to make it happen. Steve is a special and caring guy who would do anything for me."
And even though she passed away just days after her dream wedding, husband Stephen is filled with gratefulness for the help he and Becky got to make her final wish come true.
"Everybody here, (Phoenix Baptist Hospital), is like a family now. They made sure that the time we had here was good, and we can't thank them enough", said Stephen Freeman.
In Memoriam: Becky Freeman 8.22.82 – 10.14.09
Thanks to Phoenix Baptist Hospital, a Phoenix, Arizona Hospital for showing that care for patients comes in many fashions. And although we can't change the outcome sometimes and we wish it were different, we can show that medical care is more than technology and sometimes the best medicine comes from the heart.
Becky Freeman Wedding at Arizona Hospital