While many of us will spend Memorial Day enjoying the company of  family and friends, one young soldier is on his way to basic training.  And then, off to Afghanistan.
As we sent him off this past weekend, there was both a tear in my eye and a tug at my heart. His sacrifice, his courage—means that we as Americans can spend the day doing what we please.  To all who have served or are serving—You are Our True Heroes!
The speech below was given in honor of Jeb Yearwood, as family and friends gathered to wish him well.
If you can read this, thank a teacher.
If you are reading it in English, thank a soldier.
–U.S. bumper sticker
We are here today to give just a few minutes of our time to Jeb Yearwood.  A small return in comparison of what he is willing to give for us, which is essentially his life.
Quite a disparity no doubt.
Today we honor John Edward Boyce Yearwood or Jeb for short and salute his services to the nation. May we always remember that serving one's country is the ultimate expression of love for family, friends and neighbors.
I must confess however, Jeb had a jump ahead of most of us. Whereas many of us may have had at times where we stumbled  through life, and had times without a clear direction, Jeb, however, was different.  He already had his vision set towards the military as a toddler. In his own words,  "Ever since I could walk and talk, I wanted to be a soldier".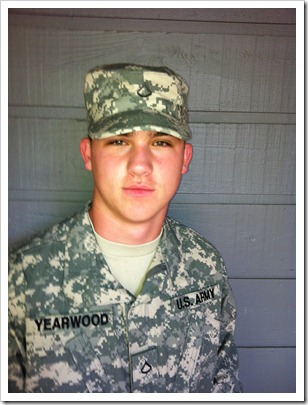 When I learned about Jeb's decision to join the Armed Forces, I mentioned this to a friend of mine I play tennis with, and he relayed the following to me.
"WOW, Jeb is a soldier. I wish him well. My thoughts to Jeb are "stay off the skyline",  in other words; never isolate yourself against the background or sky. Never trust the enemy or the perceived enemy. If you are in a fair fight, something is or could be wrong,  you should always have the upper hand."
I took my friend's words seriously,  after all he served in Vietnam like Jeb's dad.
History has shown us, that in every theatre and country the United States soldier has fought in, it ultimately helped that country and the world to be a better place. It may take time for those countries to evolve, but given time, these places from WWII to Korea, Vietnam, and Iraq have or are on track to give their people a better existence. Let's hope the same applies for Afghanistan.
I would also like to bring to your attention to a quote from Ronald Wilson Reagan, the 40th President of the United States (1981–1989).
President Reagan said,
"Some people live an entire lifetime and wonder if they ever made a difference in the world, but the American soldier does not have that problem."
So let me conclude my little spiel by offering a simple toast to from us all:
"To our departing friend and soldier Jeb Yearwood: We thank you for your service, for your courage, and for your willingness to protect our nation.  All of us extend our best wishes to you for a safe and speedy return."
God Bless…. and you know, "There is no such thing as an atheist in a foxhole".