Switzerland operates a consumer-driven health care system
The Swiss people control health care because they are the only purchasers of health insurance. There are no government health insurance programs in Switzerland. For individuals who cannot afford to buy health insurance in Switzerland, they receive subsidies from the canton/state they live in so they can shop for their own healthcare policy. Each insured person pays an individual premium which does not depend on income but on the insurance provider chosen, the place of residence and the form of cover or insurance selected. (deductibles, co-pays etc.) The insurance provider grants benefits in the event of illness, non-occupational accidents not covered by accident insurance as well as maternity. Out-patient and stationary medical treatment as well as medicines prescribed by a doctor are covered but not, as a rule, dental treatment.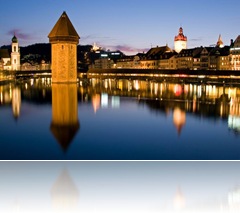 Basic health insurance is mandatory for all persons living in Switzerland. Within three months of taking up residence or being born in Switzerland, all persons residing in Switzerland must buy health insurance. Stiff monetary penalties apply for non compliance. Individuals may choose any health insurer he/she wants, and the insurer must accept him/her irrespective of age, state of health, and without any reservations or qualifying period. There are over 80 Swiss health insurance companies and the all are required to offer this basic insurance to everyone, regardless of age, risk or medical condition. The insurance companies are not allowed by law to make a profit on the compulsory plan but compete for profits by offering higher or lower deductibles as well as supplemental benefits which may include:
General ward within all of Switzerland: This gives the holder the right to treatment in a general ward in any Swiss hospital he desires. (Basic health insurance will only cover costs for hospitals within the holder's canton/state of residence).
Semi-private ward within all of Switzerland: This gives the holder the right to a two-bed room in any Swiss hospital.
Private ward within all of Switzerland: This gives the holder the right to a single room in any Swiss hospital.
Flex models: Holders choose a ward upon admission. For a general ward within Switzerland, supplementary health insurance will cover all costs, if private or semi-private treatment is desired, patients will have to contribute to additional costs as determined by the provider.
Supplementary health insurance: Providers can also determine premiums according to risk, i.e. depending on the holder's age and sex among other criteria. They could also object to applications and only offer coverage under certain conditions.
Swiss insurance policies are consumer driven. Deductibles and co-pays apply. Swiss cantons/states subsidize health insurance premiums based on income if applicable. Coverage is the same throughout the country avoiding any double standards. Health-care prices are set each year after negotiations between insurance companies and medical providers. The fee schedule has to be approved by the Swiss canton/state government.
Swiss insurers charge a premium for each family member individually. Children have a lower premium than adults.
Companies have no role in health insurance plans in Switzerland. Health-care plans are chosen by individuals and parents for their kids and not through employee benefit departments. Working for the same employer for at least 8 hours per week, automatically entitles to accident coverage as stipulated by law. This means health insurance can be bought without accident coverage with a clear conscience. Depending on the provider, premium rates on health insurance can decrease by up to 10% if already covered by an accident policy.
Accident coverage provided by employers covers accidents that happen both inside and outside of work. As soon as such coverage no longer applies, policyholders must notify their provider. Accident coverage will be reactivated and added to the basic health insurance. Premiums reflecting the new coverage will be adjusted accordingly. It is not necessary to carry health insurance and/or accident coverage with the same insurance company.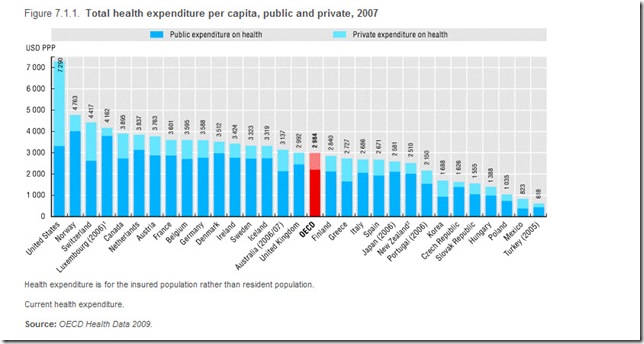 The healthcare system compares well with other European countries and patients are largely satisfied with it. In 2006 life expectancy at birth was 79 years for men and 84 years for women. It is among the highest in the world. Spending on health in Switzerland is 11.3% of GDP compared to the U.S. health spending at 15.3%, Canada (10%), France (11%), Germany (10.6%) and Japan (8.1%). According to the Centers of Medicare and Medicaid Services (CMS), in 2009 the U.S. is projected to spend $ 8,160 per U.S. resident or 17.6% of GDP. The United States continues to outspend all other OECD countries by a wide margin. In 2007, spending on health goods and services per person in the United States increased to $7,290, two and a half times the average of all OECD countries.
With aging populations and new healthcare technologies, health spending will likely continue to rise. By the year 2018 healthcare spending in the U.S.A. could be over $4.3 trillion, 20.3% of the U.S. GDP amounting to $ 13,100 per resident. For more information about Swiss healthcare go to the Swiss Federal Office of Public Health (FOPH)