Unfortunately, the rise in H1N1 cases has made it difficult for consumers to determine which products are legitimate with regards to H1N1 medications or supplies versus those which are not. Here are some tips so that you know how to protect yourself from purchasing Fake H1N1 products or materials.

Urge caution regarding promotions and Internet sites offering products for sale that claim to diagnose, prevent, mitigate, treat or cure the H1N1 flu virus!
Fake H1N1 flu drugs sold over the internet are bringing in millions of dollars to gangs, illegal vendors and criminal organizations operating fake pharmaceutical sites on the web. This websites promote advertise and offer counterfeit antiviral drugs sale that claim to diagnose, prevent, mitigate, treat or cure the H1N1 flu virus.
The top five countries buying fake and unapproved Tamiflu on the internet were; the United States, Germany, Britain, Canada and France, according to Sophos a British security software firm that intercepted hundreds of millions of fake pharmaceutical spam adverts and websites this year.
Tamiflu, an antiviral marketed by Switzerland's Roche Holding and known generically as Oseltamivir, is the frontline drug recommended by the World Health Organization to treat and slow the progression of flu symptoms. GlaxoSmithKline makes another antiviral for flu, known as Relenza.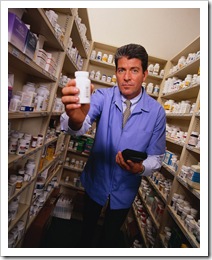 Sophos said criminal gangs were operating medicines websites branded as the "Canadian Pharmacy" in an attempt to appear genuine. Hundreds of virtually similar so-called "Canadian Pharmacy" sites exist. Although their claim is to be based in Canada (a tactic designed to add credibility), the sites might actually be located anywhere in the world.
Sophos also reports that members of Glavmed, one of the more popular Russian affiliate networks, can earn an average of $16,000 a day promoting such dodgy pharmacy websites. These sites have begun advertising Tamiflu alongside more traditional products such as Viagra and Cialis.
As consumers grow increasingly anxious about obtaining the H1N1 flu vaccine for their children and other vulnerable family members, scam artists take advantage by selling them bogus remedies online," said David Vladeck, Director of the FTC's Bureau of Consumer Protection.
The FTC reminds consumers that the only products recommended for treatment of H1N1 flu are prescription antiviral drugs, including Oseltamivir (brand name Tamiflu) and zanamivir (brand name Relenza).
In a letter sent in early November 2009, the Federal Trade Commission is warning certain Web site operators making claims that their products can prevent, treat, or cure the H1N1 flu, commonly known as swine flu. The FTC told the companies – whose products include dietary supplements, air filtration devices, and homeopathic remedies, items containing silver, and cleaning agents – that unless they have scientific proof for their claims, they are violating federal law and must drop the claims or face further action.
The FTC's Consumer Alert warns the public to be skeptical of claims that products like pills, air filtration devices, and cleaning agents can kill or eliminate the virus. The alert advises consumers to:
Know the facts: The H1N1 virus is thought to spread from person to person in the same way that seasonal flu spreads – mainly coughing or sneezing by people with the flu. Sometimes people may become infected by touching something with flu viruses on it and then touching their mouth, nose, or eyes.
Keep your hands clean: Public health authorities advise that basic personal hygiene is the best protection against infection. Wash your hands thoroughly. When soap and water are not available, health authorities suggest using alcohol-based disposable hand wipes or gel sanitizers. These products are available in most supermarkets and drugstores.
Tip: Sing Happy Birthday Twice while washing your hands….with warm water and soap before rinsing thoroughly or see the HospitalSoup.com handwashing article which gives you the top things you need to know about how to properly wash your hands. 
Check travel advisories for affected areas: To lower your risk of infection, the Centers for Disease Control and Prevention (CDC) suggest avoiding travel to affected regions.
Seek medical attention: If you think either you may have influenza symptoms, or you may have been in direct contact with someone who has the flu, consult a health care professional immediately.
Stay informed: For more information from the federal government about the H1N1 flu, check out or visit the Centers for Disease Control and Prevention listed on www.HospitalSoup.com at http://www.hospitalsoup.com/listing/9317-centers-for-disease-control-and-prevention.
or visit U.S. DEPARTMENT OF HEALTH & HUMAN SERVICES http://www.hospitalsoup.com/listing/7541-u-s-department-of-health-human-services on the same site to learn more.