Date: March 1, 2010
TeleHealth Services Announces Updated TIGR Version 7 Interactive Patient Education System at HIMSS 2
The new TIGR® Version 7 of TeleHealth Services interactive patient education solution provides significant enhancements to the overall flexibility and performance of the interactive education solution including a new television driven graphical interface
Raleigh, NC – March 2, 2010 – TeleHealth Services, the nation's leading provider of interactive patient education solutions and healthcare-grade televisions for hospitals, today announced the availability of the updated TIGR® Version 7 system, just in time for the annual Healthcare Information and Management Systems Society (HIMSS) Conference & Exhibition in Atlanta, Georgia.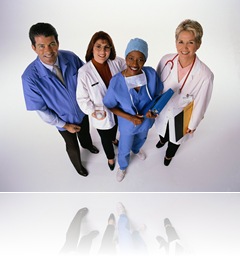 TeleHealth's TIGR on-demand patient and staff interactive education system has been installed in over 400 hospitals across the United States. The new interactive education system will provide patients with on-demand access to condition-specific patient education care plans. Additional functionality with tests, surveys and automated service recovery adds a higher level of customization to the patient experience and allows the hospital to proactively address any patient challenges efficiently. TIGR can also be used to provide education to staff members, from mandatory continuing education to quality reporting on national patient safety goals and other hospital initiatives.
The new version provides significant enhancements to the overall flexibility and performance of the interactive education solution including a new television driven graphical interface, enhancing the patient usability. Additional features include improved adherence reporting, optional dietary interface, enhanced active directory security and dynamic marquees that provide informational applications and expanded branding opportunities for hospitals.
The latest version of TIGR V7 was created to offer a multi-dimensional approach to a patient's recovery plan. The uniqueness of each patient and the added functionality allows hospitals to design a care and recovery program based on individual needs and circumstances of each patient. Reaching patients during teachable moments with educational support provides immense benefits in continuity of care, improved patient outcomes, lower costs and reduced remittance rates. It also aids hospitals in meeting facility compliance and accreditation requirements.
"We are always adding new functionality to our TIGR system to help hospitals stay on top of constantly changing standards and guidelines," said Richard Bootes, VP of Development for TeleHealth Services. "As the cost of healthcare rises, it's increasingly important for hospital executives to seek out innovative ways to help patients effectively manage their health needs. The TIGR interactive patient education system gives hospitals a user-friendly patient education experience, while focusing clinical work time and aiding hospitals in wellness programs and accreditation efforts."
"Successfully providing patient education is a huge component of optimal healthcare," adds George Fleming, CEO of TeleHealth. "Encouraging patients and families to use reliable, hospital-approved technology and patient education content to actively inform themselves will lead to a better system of care overall. Our full turnkey, on-demand solution provides a single touch point for cutting edge technologies, customized financing solutions and deployment services enabling hospitals to focus on what matters most – providing quality patient care and improving the financial health of the facility."
Please visit TeleHealth Services, booth #2832, at HIMSS 2010, March 1-4 in Atlanta, GA.
About TeleHealth Services:
With more than 2,500 healthcare clients across the country, TeleHealth Services is the nation's leading provider of integrated technology and communications solutions for the healthcare market. Combining 50+ years of healthcare expertise and partnerships with industry leading manufacturers, TeleHealth Services is uniquely positioned to offer a full suite of hospital technology solutions that includes:
• Interactive patient and staff education platforms
• Healthcare grade televisions and accessories
• Patient protection and security systems
• Bedside patient entertainment solutions
• The latest educational and entertainment content
• Custom designed communication systems
• Comprehensive design, implementation, and service packages
• Flexible financing solutions
Headquartered in Raleigh, North Carolina, TeleHealth Services is a division of Telerent Leasing Corporation, which was founded in 1957. Telerent is a wholly-owned subsidiary of ITOCHU International, Inc., a U.S. company based in New York City and Global 500 Corporation. For more information on TeleHealth, call 800-733-8610, or visit at http://www.telehealth.com/.
Company Contact:
Matt Barker
Director of Marketing
TeleHealth Services
919-772-8604
matt.barker@telehealth.com