Patient Education is an important component of any health care system. And utilizing technology to deliver interactive patient education is a way in which health care organizations can establish themselves as leaders in the medical field. Alegent Health, which operates  Hospitals in Nebraska and Hospitals in Iowa is doing just that.
Omaha, NE and Raleigh, NC – February 25, 2010- TeleHealth Services, the nation's leading provider of healthcare grade televisions and on-demand interactive patient education solutions, today announced an extended partnership with Alegent Health. Both TeleHealth Services and Alegent Health Collaborate in a System-Wide Patient Enhancement Project
Omaha, NE and Raleigh, NC – February 25, 2010- TeleHealth Services, the nation's leading provider of healthcare grade televisions and on-demand interactive patient education solutions, today announced an extended partnership with Alegent Health. Building upon an existing relationship, Alegent has chosen TeleHealth Services as their interactive patient education and entertainment partner in the health system's unprecedented "Generation Patient" enhancement initiative.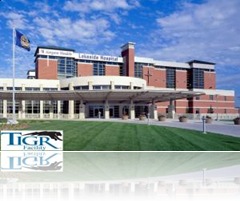 In an effort to provide the highest quality of service and the best patient experience, Alegent invested hundreds of millions of dollars to expand and enhance its five Omaha metropolitan hospitals. That investment, which focused on buildings, technology and quality, positions Alegent to care for the needs of its community well into the future.
"TeleHealth Services has been a true partner in our efforts to build for the future. From healthcare televisions to its TIGR interactive patient education systems, TeleHealth provides our patients and staff with on-demand access to condition-specific education at the bedside," said Beth Gibbs, Advanced Nurse Specialist for Alegent Health's System Nursing Department. That kind of education ensures that both the patient and the family are hearing the same instructions, which is important for recovery."
"TeleHealth Services is implementing its innovative TIGR interactive education and entertainment solution in six Alegent Health facilities. The partnership also encompasses upgrading all patient rooms and guest areas with state-of-the-art healthcare and commercial grade LCD televisions, Curbell GenIV direct access pillow speakers and Lucasey mounts. Alegent Health Lakeside Hospital will also be deploying the system's first all digital, on-demand patient entertainment solution..
"Our top priority is for our hospitals to combine the best clinical care with the optimal patient experience. We feel the investment in these patient-centered technology solutions will be cornerstones in helping us accomplish those goals," said Duane Carbullido, Operations Director for Information Technology Services at Alegent Health.
"In 2010, we plan on continuing our investment in the wellness of our communities, and to ensure patient satisfaction and a higher level of medical care," said Carbullido. "This is a very large, serious undertaking and we felt it was only right to partner with a provider who could give us the full turnkey solution. To us, TeleHealth Services is the one-stop technology solutions integrator we were looking for. We are looking forward to the expansion of the TIGR product in our facilities, as well as the patient's healthcare grade HD televisions."
"It is a privilege to partner with Alegent Health on this impressive endeavor. Alegent's patient-centered, collaborative care model is a blueprint for excellent patient care. The projects we have partnered on will support patients with a broader range of care throughout the recovery continuum, while providing them the home-like amenities to make their stay comfortable," said George Fleming, President of TeleHealth Services. "As the healthcare industry continues to evolve and more attention is placed on realizing the value of patient focused initiatives like "Generation Patient," TeleHealth is proud to demonstrate the benefits of offering unique healthcare technology integrations that support our customers' desire to improve quality, reduce cost, and enhance efficiency in the management and delivery of patient care."
TeleHealth Services will be showcasing the new TIGR V7 Duo interactive patient education system at booth #2832 during HIMSS 2010 from March 1st through the 3rd in Atlanta, Georgia.
About Alegent Health:
Alegent Health is the largest not-for-profit, faith-based healthcare system in Nebraska (Nebraska Hospitals)  and southwestern Iowa (Iowa Hospitals) with 10 hospitals, more than 100 sites of service, over 1,300 physicians on its medical staff and 9,000 employees. Alegent Health is ranked first in the country in quality and patient satisfaction according to the Network for Regional healthcare Improvement (NRHI). That exceptional commitment to providing patient focused care for the body, mind and spirit of every person keeps Alegent Health faithful to its Mission, which was inspired by its sponsors, Catholic Health Initiatives and Immanuel Health Systems. At Alegent Health, patients and their families find a continuum of care, from women's and children's services, primary care, wellness counseling, and senior care to cardiovascular services, orthopedics, oncology, physical rehabilitation and behavioral health.
About TeleHealth Services:
With more than 2,500 healthcare clients across the country, TeleHealth Services is the nation's leading provider of integrated technology and communications solutions for the healthcare market. Combining 50+ years of healthcare expertise and partnerships with industry leading manufacturers, TeleHealth Services is uniquely positioned to offer a full suite of hospital technology solutions that includes:
• Interactive patient and staff education platforms
• Healthcare grade televisions and accessories
• Patient protection and security systems
• Bedside patient entertainment solutions
• The latest educational and entertainment content
• Custom designed communication systems
• Comprehensive design, implementation, and service packages
• Flexible financing solutions
Headquartered in Raleigh, North Carolina, TeleHealth Services is a division of Telerent Leasing Corporation, which was founded in 1957. Telerent is a wholly-owned subsidiary of ITOCHU International, Inc., a U.S. company based in New York City and Global 500 Corporation. For more information on TeleHealth, call 800-733-8610, or visit at http://www.telehealth.com/.
Contact:
Matt Barker
Director of Marketing
TeleHealth Services
919-772-8604
matt.barker@telehealth.com