Everyone knows that exercise is essential for good health. And spending time with your children is important for families. So why not combine heart healthy activities like exercise into your weekly schedule so that your kids will develop good habits early on with regards to exercise, and you'll get more quality time with your entire family.
It's highly recommended to involve every member of your family in your exercise activities. In the United States, childhood obesity rates are soaring, so even if your children don't have risks for heart disease know, carrying extra weight can and will bring them problems in the future. Exercise is an important component in reducing obesity rates and it can bring your family closer if each person becomes more health conscious.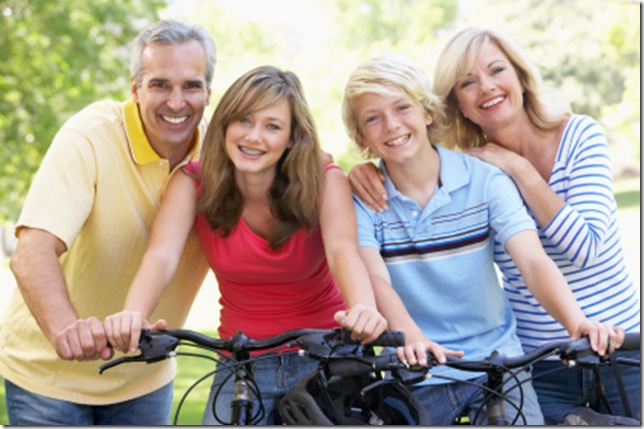 One of the most significant things you can do to help improve the quality of your meals is to eat most of your meals at home. When you and your family eat out in restaurants it is difficult to figure out the exact caloric counts of the food. And many times calories in items are much higher than we think. Knowing exactly what's in your food is crucial and that's hard to do when someone else is preparing your meals. And it's been shown that spending time eating your meals at home as a family has benefits like improving a child's self esteem and helping your child's grades as well.
By including a variety of different kinds of physical activity you can increase the hours that your family is together. Many options exist for ways to include healthy activities that are fun for the entire family. Choose activities that get the heart rate up for at least 20 minutes to get the most benefit from your exercise sessions. When you add in a walk after dinner you can burn calories, improve your health, and have a chance for family members to share interesting things about their day.
Other types of family fun that incorporates healthy activities may include things such as roller blading, bike riding, ice skating, roller skating, or horseback riding. Obviously some of these things are more exotic and can't be done every day, but having unexpected events that you participate in as a family can make getting off the coach and getting moving lots of fun! Planning and caring for plants in a garden is also a useful way for your kids to learn more about science and spend less time in front of a television set.
Time spent in the garden can help increase physical fitness levels. Planting a variety of fruits, vegetables, and herbs in the family garden gives you fresh produce that will add flavor and spice to your meals and save you money at the grocery store. Kids who grow their own produce are certainly much more likely to want to eat fruits and vegetables because they have participated in the planting and harvesting process.
Choose a particular night of the week that's set aside for family night. On this scheduled night, take your children and spouse out for a game of tennis, basketball, softball, bowling, hiking at the park or even miniature golf. Find out from the local animal shelter if volunteers are needed to walk dogs, and participate as a family to help some local animals and exercise your body at the same time.
Be sure to set limits on the hours that your children are permitted to spend in front of the television or playing computer games. Encourage your kids to develop healthy exercise habits while they are young, as it is much easier to start earlier rather than later with regards to including exercise in your daily routine.