HospitalSoup.com's Job Search Tips: Looking Your Best During Your Next Job Interview
In today's competitive job market, the interview is your chance to impress upon the employer how hiring you will make their job easier. So the last thing you want to worry about is your appearance.
To make sure that  the focus is on you and your brilliant skills and abilities, if you're a makeup wearer,  it's important to select makeup that will stay on throughout the entire interview process. Keep in mind that as the seasons change, so sometimes should your makeup.
What looked terrific during the dry winter months may now turn into a sticky mess due to increased temperatures and higher humidity. In previous articles we've discussed the importance of choosing a good foundation that won't leave you uncovered during crucial interview times.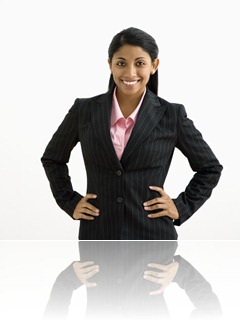 In today's job interview tip segment, we're talking about Mascara! And how you can choose the Right Mascara for a Job Interview.
Because you never get a chance to make a first impression, your looks in a job interview are important. This doesn't mean that you need to have extreme movie star looks, in fact, too much eye makeup can be an detriment,  but it does mean that you should look very polished, professional,  and pulled together. 
Mascara, can be enhancing to your appearance and comfort, or downright annoying.  Let's say, for example, you began the morning at a job interview in the HR Manager's office. Things went great, and then as the day progressed, you met people in multiple departments, went to lunch with some prospective co-workers, and ended the day meeting the company VP. The last thing you need is for your eyes to look like raccoons in your last meeting of the day. And it's also important that you're eyes aren't red or itchy at the end of a long and stressful day of interviewing.
Three of the most popular questions most women ask with regards to choosing mascara are as follows:

1) Is it comfortable? (Having a mascara that looks great, yet burns your eyes or makes them red and itching can be disastrous for a job interview)
How does the mascara feel after many hours on your eyes?  And keep in mind that what works well for your neighbor, cousin, friend, co-worker, may not necessarily work the best for you. Many women have sensitive eyes or allergies that make it a challenge to find a mascara that works for them. If you do have sensitive eyes then a good start is to select a mascara which is labeled as "Hypoallergenic".  Just know that there are variances within brands that are hypoallergenic that may make certain ones more "wearable" for you than others.
2) Will it stay on? (Mascara that initially looks nice but then flakes off quickly can also cause you unnecessary stress, but it can also be harmful to your eyes as well. Tiny particles that flake off can actually injure the delicate eye tissues, not to mention make your eyes vulnerable to tearing and redness.) 
Employers don't want to see your mascara, under, over, or around your face. It should make your lashes look nice, but not overpowering. This is a professional situation—remember, so don't go overboard with a nighttime glamour look. Go for a more subtle daytime look that is appropriate without going overboard.
Choosing a waterproof mascara may be helpful for those who either work very long hours, or anyone going on a job interview. Waterproof formulas generally hold up longer than non-waterproof mascaras.
3) Will it remove easily when it's time to take the mascara off?
It's also not helpful if your makeup looks fantastic and stands the test of time but won't come off at night when it's time to remove it.
For my testing, I was trying to find another option for mascara other than the brand that I normally use. I really like the Bobbie Brown Brand "No Smudge" Mascara.  It doesn't irritate my eyes, goes on easily, and stays on, even through outdoor workouts under the humidity of a Texas afternoon. 
Note: Although I don't wear makeup in general when working out, I will however, put on my "test" makeup for a workout trial run. I figure anything that can stand up to one of my workouts, would be ideal for a job interview.
But I digress. Ok, back to the Bobbie Brown Mascara—I was trying to find something else to use as a substitute. Because it is a bit pricey, I wanted to find a drugstore brand that I could use as an option.
I solicited some feedback at the grocery store the day of my "testing". Several people pointed me in the direction of two brands; Almay and Neutrogena. I purchased both brands and then tried them both over a period of a few days.
I found the Almay to flake off after a few hours, and it seemed to also burn and sting my eyes after a couple of hours on my lashes. I was, however, pleasantly surprised by Neutrogena's brand. No stinging, even after 6-8 hours on my eyes, and it stayed on until I took it off at the end of the day.
Once you've selected the mascara that you think will work for you, make sure and "test" it before your interview. It's never a good idea to try a new product on an interview day. Try any different products at home first, to make sure that they suit you, before using them in an important occasion like a job interview.
By taking the time in advance to find out what products work for you, and which ones look best and won't irritate your eyes, you'll have more confidence on your next job interview.  This self assurance will help you during your next interview, and you can spend your efforts toward focusing on your interview,  instead of rubbing your eyes or worrying whether your makeup is still in good shape.
You May Also Be Interested In:
Did you enjoy this article?
| | |
| --- | --- |
| Share the love | Get free updates |