Assistant Professor of Nursing
Part 2 of HospitalSoup.com's Interview with Professor Bethany Hoffman
Another "Day in the Life" series brought to you by HospitalSoup.com featuring innovative health care professionals and medical careers.
Q. Give us an example of what a typical day on the job might be like as a clinical nurse educator.
B.H. I have time every day that is allotted for office hours. So I might start the day with office hours and have individual meetings with students in regards to information about advising, choosing a course for the semester, making decisions around what the student's needs are. I might meet with a couple of students about a research project they're working on in another class, which has an interest in mental health. So we may discuss what they can do their research on, what kind of information will be needed. Being part of a campus, my responsibilities also include being a part of the college. I serve on communities and boards, which have meetings. It's part of my position here, and part of the evaluation process. So my day may include attending a meeting for a committee that I'm on. For example, yesterday I attended a  community-wide presentation on "Dying on Our Own Terms." The idea is to involve the community on how we want death to be handled in our community. On other days, I might accompany a student making a home visit. Each student has a long-term patient in the mental health community they visit for six weeks. Teaching involves going on these visits with the student. Then, I would do my theory class for two hours in a particular subject area, and that involves preparation, doing class for two hours. Hours are designated, but there's a lot of flexibility. Because I'm in a teaching position, I chose to be involved in things like community efforts that will enrich the learning for the students as well as for myself.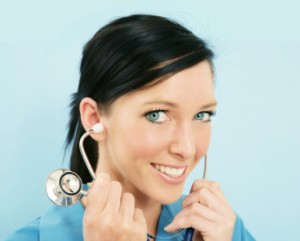 Q. Is this your choice as an educator or more your passion to become more involved in community?
B.H. It's both. I have a passion for this but I also want the theory, the coursework, to be real for the students. Mental health still has an incredible stigma attached to it, and many people are fearful of it, uncomfortable with it, lack knowledge about it. Most of the students that come to my class say that [before they took the course] they really didn't know what schizophrenia was, what depression truly looked like, what bi-polar illness was. When I tell someone I'm a psychiatric nurse, they'll ask, "How do you that?" Or within five minutes, they're telling me a story about a relative, or someone they know or they have a question about some mental illness. So I think it's important that mental health is integrated in all practices; it doesn't have to be a separate entity. When you take care of a patient, you need to able to communicate and connect with that person in some way. So I try to bring something real, something happening now, into the classroom.
Q. Explain how a nurse educator's role differs from that of other nurses.
B.H. I didn't take a lot of educational classes when I got my masters. I'm a clinical specialist in psychiatric nursing. I focused on the clinical aspect and not the education. So part of my time here has been learning more about the educational process. You want to be really strong in the knowledge of your clinical area and also in how to teach, to understand how people learn. I'm always making room to try and understand the student's perspective, too. What's going on  with them? How do they see it? How do I to make education more interesting? You may get across less information, but what is real is that a student participates in the learning, the more they retain. So how do you create a classroom where students leave there feeling like they really learned something, and they really got it. They can integrate it, use it. Recently, we revised our curriculum. Our goal was that when a student graduated, they had a particular level of knowledge, they have these confidences, they have this level of professionalism. We worked with all the faculty to provide all the knowledge and experiences and competencies to create that. We went through the accreditation process with the AACN this last fall and we passed with a 10-year tenure, which is the highest rating they give. The other concern as an educator is that you have students graduating at a level where they can pass the State Boards without difficulty and we've been in the 90th percentile since I've been here, which is way above the national average. Additionally, my roles are: keeping up with nursing journals, attending conferences that relate to psychiatric nursing, participating in community efforts to assimilate information. The other piece is I find that very exciting – to know that something that was discussed in class on Monday, a student uses when they meet with a patient that Wednesday.
Q. What type of education is necessary to prepare for a role as a nurse educator?
B.H. Within the profession of nursing you have two entry levels of practice. You have Associate Degree or a Baccalaureate degree. With a master's, you can teach both levels, depending on the institution. However, with a PhD comes more opportunity to teach at the Baccalaureate level.
Q. What is the most positive aspect of your job?
B.H. Probably having all those relationships with all the students. Getting to know people, getting to have a small part in adding to "their bag of tricks," as I call it. Things they can carry with them when they gain confidence in relating to people. I like to think of it in terms of the metaphor of planting a seed and hoping it germinates somewhere along the way. How far will it go? If I can help a student in getting more comfortable in talking and communicating with patients, than I'm probably an advocate in helping all those patients with whom that student comes in contact. As students and as nurses, they'll be better advocates and give better care.
Q. What is the most challenging aspect of your job?
B.H. Keeping up with the constantly changing technology. The changes are continuous, from the most basic to the most complex. Also, the juggling and balancing. You feel there's always more – more to share, to teach, to learn from the students. I have to be careful not to overwhelm the students. There's all this knowledge and information, but what do they really need to know?
Q. Are there growing opportunities for nurse educators?
B.H. Certainly. In fact one of the things that's being recognized now is that the numbers of nurse educators are in an age population that will soon be retiring. There aren't that many nurses who are graduating with PhD's and are pursuing education as an alternative. There are opportunities for nurses with advanced degrees, those in areas of individual practice. There are also research opportunities. If you look in any nursing journal, you'll find ads for nurse educators. Also, a lot of people choose nursing as a second career. Often they chose to come and get their education as a nurse after they've worked in another area. I'm not sure of the average age [at Mesa State], but we have many adult learners. It's a great environment because they have incredible life experiences they bring to the profession. We also need to encourage younger people to consider nursing as a career.
Q. How about room for advancement?
B.H. Definitely. There are many positions throughout the nation for nurse educators. There's support and encouragement within the college here for people to pursue and continue their degrees. There are three individuals in our department who are currently working on their PhD's.
Q. What's the average salary for a nurse educator?
B.H. It depends on the level of institution where you are working. Sometimes teaching salaries are related to the type of program you're teaching. The pay also depends on your educational degree, and on the college itself. If the college has a high cost per student and your contribution is part of a larger institution, then your salary is going to be higher. I don't have a good answer as to the exact range. Probably in the high 20's is the low side, but I don't know the high side. That all depends on the position. For a Dean of Nursing, it would be much higher. Also, some schools are looking at dual appointments where half your salary is paid by the college or institution and the other half is paid by a hospital. You have dual appointments in which you teach part-time and work in the field part-time.
Q. What types of changes in nursing have taken place since you started?
B.H. Changes in health care technology and management. That has influenced our education process. It affects the patient's stay [due to the impact and affect that managed health care has on the relationship of diagnosis to length or type of treatment]. So it's caused a shift. We include community more than before, and in every area that we teach there is a community component. Often I have students working more in a community setting than in hospitals and institutions, so they have the broader view of health care. The other effect has been that nurses must be much more able to do research that supports the need for people to be hospitalized. Quality care issues around things like what nurses must do versus what non-licensed professionals do. Patients also need to be educated about who their nurse is. This has the effect of positively uniting nurses, in getting nurses to say this is what's important and this issue/position should be supported.
Q. What would you tell someone who was interested in becoming a nurse educator?
B.H. Probably talk to other people who are in nurse education. I think there's room for creativity in how you present your classes, there's lot of changes and you need to be willing to be flexible. Also, that you like people. Most nurses say the most important aspect is their connection with people. They really like people, that's why they're in it. Also, knowing that every student has their own background, their own way of learning, their own learning style. I think it's very challenging and fun to try to bring out the best capabilities in every student. I encourage that.
Q. What would you tell someone who was interested in nursing as a career.
B.H. Probably some of what we've already talked about. A sincere interest in individuals, in people, what their lives are about, what's important to them, caring about that. Strong background in things like science and math. You need to be adaptable, flexible, open to change. Health care is definitely an area where the knowledge is going to keep on growing, and you need to have the willingness to be in a profession where [adaptability] is going to be something that is required of you. You can't go to college and learn to be a nurse and think you're done. You need to keep up in whatever area you work in. When I'm a nurse, I'm not really much of a different person than who I am as an individual and that really is how I got so connected with psychiatrics. For me it's very interesting. I never felt like I didn't want to do this any more. I don't see myself leaving because of the connection with people.
This concludes HospitalSoup.com's interview with Bethany Hoffman, RN, MSN.
HospitalSoup would like to thank Professor Hoffman for contributing her time, knowledge and experience for this article!
Have a question about psychiatric nursing? Comments about this article? Let us know your thoughts.