Assistant Professor of Nursing – What's it like to work as a Nurse Educator?
A Day in the Life…..
An Interview with Professor Bethany Hoffman
Written by: GinaMaria Jerome
HospitalSoup.com is proud to introduce one of our new feature writers, Ms. GinaMaria Jerome
Name: Bethany Hoffman
Title: Assistant Professor of Nursing
Place of Employment: Mesa State College, Grand Junction, Colorado
Educational Background:Master's of Science in Nursing
Background: Professor Bethany Hoffman graduated from the University of Cincinnati in 1976 with a BSN. Her career in nursing has included staff positions with St. Mary's Hospital in Grand Junction, CO as well as a school nurse. After several years in practice, she returned to college to receive her master's degree from the University of Colorado in 1993. As a nurse and an educator, Professor Hoffman's focus is Adult Psychiatric Nursing. She has been teaching at Mesa State College in Grand Junction for five years.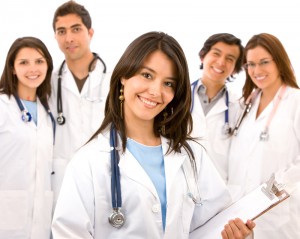 Q. What made you choose nursing as a career?
B.H. I wanted to be a nurse from the time I was very young. Part of my influence was the environment I grew up in. My mom was a nurse, and one of the things I noticed occurring with her is that people shared their stories with her. She was a person who was able to be available to them, to be supportive to them, a source of knowledge to them. She was a significant help to them. Right away, I was in situations where I saw that happening and I felt comfortable being around people who were in vulnerable positions in their lives. I felt drawn to that.
Q. What drew you to psychiatric nursing?
B.H. When I first got out of school my interest was in OB and Pediatrics. Later, I did a lot of Home Care and community health nursing. What I found was that if I really didn't know my patients, didn't have a strong connection with them and felt I was a person they trusted and felt safe with, the level of compliance went way down. I couldn't get very far with the physical and medical compliance until I knew the person, and had a strong relationship with them. In all my positions – I even worked as a school nurse in the school district – I found myself doing a lot of counseling That role of nursing just spoke to me. If I was with another individual and I felt they could really tell me what was going on with them, could talk about that, that we could sort through it and problem solve – I felt that was me, who I truly am. Then I started working as a psychiatric nurse on the staff at St. Mary's Hospital. When I decided to get my masters, I wanted to get my degree in an area that I really cared about deeply. After I completed my masters, I kept my fingers crossed for open possibilities and there happened to be a teaching position that came available [at Mesa State College] and happened to be in the area of my interest. It was a wonderful opportunity, at the right time. I had lots of students when I was on staff [with St. Mary's] so I was aware of the program here and was interested in being able to teach at the same time I was practicing [as a nurse]. I think that's what education allows you do. You have the influence in trying to help nurses grow, to become, and at the same time to practice your craft.
Q. Specifically, as a nurse educator, describe what you do.
B.H. Depends on what day of the week it is. Two days a week I'm in a hospital setting doing clinical experiences with students. Students are assigned locations throughout the community, and I make my rounds with them. We determine which patient(s) they've chosen to spend time with and what is the plan of care. I ensure they're knowledgeable about the care that's involved for that patient for that day. So that would be a full day of clinical. Spending time with patients one-on-one, helping students learn the actual clinical environment. When I'm in clinical sites, I often do group sessions or spend
one-on-one time with individual patients. So I have that patient connection while at the same time trying to help students develop their skills. Other days may involve doing class work, which is the theoretical class. There's time spent in the classroom, which may involve preparing and giving the lecture for that class. I also teach another class called Senior Specialty, which involves students in their very last semester working for 120 hours in practice, so they are "work ready." They choose an area they have an interest in working in, and we work out an arrangement for them to work onsite, one-on-one with the preceptor. The student gets confidence in their skills and abilities and also feels like they're a part of that unit.