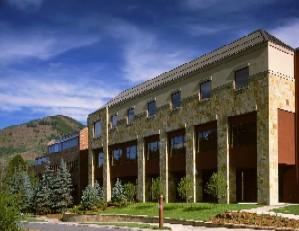 This Colorado Hospital provides comprehensive medical care, and has 58 acute beds, 190 physicians, professional and support staff of over 700. Vail Valley Medical Center, in Vail Colorado has a tradition of excellence and combines professional expertise with caring and concern.
Vail Valley Medical Center is a not-for-profit healthcare facility, situated in the heart of the Rocky Mountains of Vail,Colorado. 8150 feet above sea level, VVMC is conveniently located along I-70, 100 miles west of Denver. Here at Vail Valley Medical Center you'll find a commitment to the community, state-of-the-art technology, an internationally renowned orthopedic sports medicine center, and a focus on continuous quality improvement. But unlike many places, we offer flexible scheduling that fits your lifestyle and proximity to the kind of recreation you'll find at this altitude.
Vail Colorado: Vail is a world-class resort area, offering more than 6,000 skiable acres in the winter season, along with snowmobiling, ice skating, showshoeing, horseback riding, Nordic skiing and dog sled rides.
No longer just a wintertime retreat, Vail now offers fantastic opportunities for recreation in the summertime. Living in Vail during the summer means you'll enjoy hiking, biking, camping, golfing and fishing.
With the moderate summer temperatures in the Vail area during summer months, many chairlifts are kept open throughout the summer season, offering a great way to enjoy the beauty and grace of the Colorado Rocky Mountains.
Vail has a population of 4,500 and as part of Eagle County, the area itself is host to about 24,000.
There are many opportunities to enjoy culture and entertainment in the Vail Valley area, with over 20 galleries featuring Western Art, and live entertainment provided in a variety of settings including the Gerald Ford Amphitheater.
Vail Valley Medical Center is a Level III Trauma Center and JCAHO accredited 58-bed regional hospital. Five satellite clinics serve the communities of Breckenridge, Frisco, Beaver Creek, Edwards, and Eagle. World-famous for our orthopedic care, and located in the heart of an internationally renowned resort region, we have become a destination unto ourselves for people seeking high quality medical care.
What makes working in your organization different from working for other employers?
Vail is unmatched as place to live and Vail Valley Medical Center is an even better place to work. Vail Valley Medical Center offers competitive pay and an excellent benefits package.
Can you explain the career opportunities available for new graduates in your organization?
We have many opportunities for new graduates at Vail Valley Medical Center within our Women and Children's Services Department and our Medical/Surgical Department
What can a candidate expect during their interview process?
Our interview process is handle by our hiring manager in each department. The interviewing process will vary according to the manager handling the process.
More information about Vail, Colorado:
World Class Ski Resort
Culture: The Rochester Philharmonic, The Detroit Symphony
Top Pop Artists
The Bolshoi Ballet Academy
Ten golf courses, over 100 tennis courts, thousands of miles of hiking trails, miles of bike paths
Unquestionably, the Vail Valley is a great place to live. This amazingly energetic community offers so much to do that boredom is seldom an option. Because most of Eagle County is public land, it is a gigantic playground for its mountain residence. As a balance to the many recreational opportunities, this intimate community has a cultural calender that brings the city to the mountains.