Obesity While Pregnant and Your Baby's Health
A new study funded by the U.S. National Institutes of Health concluded that Women who put on a lot of weight while pregnant were much more likely to have heavier kids at birth than those whose weight gain was modest. While it is true that having a baby who weighs too little can lead to health problems, an overweight infant isn't such a great idea either. Women who gain too much weight during pregnancy have big babies and are putting their children at risk of becoming heavy later on. Heavier babies have a significantly higher risk of staying heavy throughout their lives, said Dr. David Ludwig, director of the Optimal Weight for Life program at Children's Hospital in Boston, a Massachusetts Hospital, one of the study authors. Big babies also have higher chances of developing problems later in life including asthma, allergies and even cancer.
The study was published in the medical journal Lancet and was paid for by the U.S. National Institutes of Health.
"It's never too early to start preventing obesity," said Stephan Rossner, a professor in the obesity unit at Karolinska Hospital in Sweden who was not connected to the study. "It may be uncomfortable for mothers to eat less and change their lifestyle, but after nine months they will get a great payoff for their children."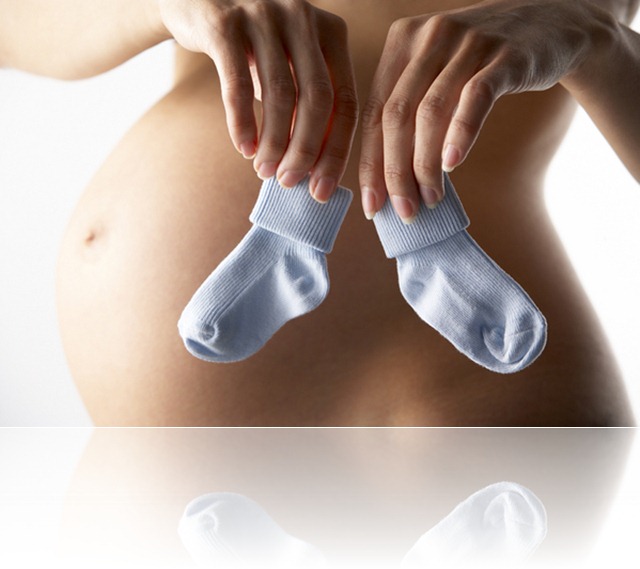 In the U.S., over one third of women of normal weight and more than half of overweight and obese women gain more weight than their doctors recommend.
The Institute of Medicine of the National Academies, an independent, nonprofit organization that advises the U.S. government, says normal-weight women should gain 25 to 35 pounds (11 to 16 kilograms) during pregnancy, while overweight and obese women should gain 11 to 25 pounds (5 to 11 kilograms).
When pregnant women overeat, some of those extra calories over-stimulate the fetus' growth. Pregnant overweight women are also more likely to suffer from complications like diabetes and high blood pressure.
Perhaps the most common complication for overweight women is longer labors and the risk of a cesarean section. Approximately one in three deliveries is a cesarean delivery. Overweight pregnant women are at a bigger risk of being diagnosed with preeclampsia or gestational hypertension or have a large baby. Preeclampsia is a condition of pregnancy marked by high blood pressure and excess protein in your urine after 20 weeks of pregnancy. Preeclampsia often causes only modest increases in blood pressure. Left untreated, however, preeclampsia can lead to serious — even fatal — complications for both you and your baby.
Eating healthy throughout your pregnancy and working with your doctor to manage your weight will help reduce these risks and increase your already high chances of having a healthy pregnancy and a healthy baby.