Natural Thyroid Hormone: Questions you Asked About Natural Desiccated Thyroid Medication
September 15, 2010
RLC Labs, formerly Western Research Laboratories,  has been in the business of supplying natural desiccated thyroid hormone medications for long time.  In fact, the company  has produced natural thyroid medication since 1934 and was started by Dr. William McClymonds, then of Denver, Colorado as Western Research Labs. Later in  June of 1996, Western Research Labs changed their name to RLC Labs.
Frequently Asked Questions About  Nature-Throid and Westhroid
Q: What is the difference between Nature-Throid and Westhroid?

A: There is now  no difference between the two products. They differ in name only. Initially, Westhroid was the first natural desiccated thyroid hormone product which was released back in the 1930's.  Thirty years later in the 1960's era, some patients were thought to have sensitivities to the cornstarch that was used to "bind" or hold together, the Westhroid.  Because of this, Nature-Throid was developed which had the same bio-active ingredients, except that the Nature-Throid did not use cornstarch as a binder.
Today, RLC labs, has reformulated Westhroid so that both Nature-Throid and Westhroid have the exact same ingredients and binders, and thus both are now hypoallergenic and identical in structure.
Q: Why are there two names for the same products now?
A: Both products were kept so that patients who were familiar with one or the other could continue to get a reliable source of natural desiccated thyroid hormone medications
Q: What About Quality of the Nature-Throid or Westhroid?
A:  Westhroid and Nature-Throid have never had any recalls for inconsistencies or dosage issues. This is in contrast to other synthetic thyroid medications and other natural thyroid medications that are available in today's marketplace.
Q: I need a gluten free diet, can I use Nature-Throid or Westhroid?
A: Both Westhroid and Nature-Throid are hypoallergenic and do not have any gluten, corn, peanut, rice, soy, yeast, egg, fish, shellfish or any artificial coloring or flavoring.
Q: Can I split either Nature-Throid or Westhroid tablets?
A: Yes, according to the manufacturer you may split the tablets if you need to approximate a half dose.
Q: How Can I get Nature-Throid or Westhroid?
You need a prescription from your physician. RLC Labs does not fill prescriptions or supply directly to patients.
Q: What is the active ingredient in Westhroid and Nature-Throid?
A: Thyroid USP is the name of the active ingredient in both thyroid medications.
Q: Do any of the ingredients used in Nature-Throid or Westhroid come from China?
A: No ingredients, according to the manufacturer, that are currently used in manufacturing either Nature-Throid or Westhroid are sourced from China
Q: What is the ratio of T4 to T3 in Westhroid and Nature-Throid?
A: Thyroid USP, which is the raw material used to make these medications is a (4:1 ratio of T4 to T3).  Other brands of natural desiccated thyroid hormones may use different fillers or inactive ingredients.  Patient with allergies or food sensitivities may find using a medication like Nature-Throid or Westhroid to be helpful for them if they are looking for a hypoallergenic source of natural desiccated thyroid hormone.
Q: What Are the Ingredients in Westhroid and Nature-Throid?
Ingredients: porcine Thyroid USP,  Carnauba Wax,  Colloidal Silicon Dioxide, Dicalcium Phosphate, Lactose Monohydrate (traceable amount as part of natural desiccated thyroid powder USP), Magnesium Stearate, Microcrystalline Cellulose, Croscarmellose Sodium, Stearic Acid, Opadry II 85F19316 Clear
Q: I heard Nature-Throid was reformulated in 2010. Is this true and if so what was changed?
A: Nature-Throid used to contain methylcellulose as a filler or binder. It now has micro cellulose as a replacement for methylcellulose.  Additionally the calcium content was changed from a previous 16 mg to 17 mg.  The old Nature-Throid according to RLC Labs had Magnesium, Potassium, and Sodium (which amounted to less than 1 mg each). In the new formulation of Nature-Throid there is no potassium.
Q: How Do I know If I have the Old or the New Nature-Throid?
A: The new Nature-Throid tablets now include the RLC initials on one side and an "N" on the other side.   The previous formulation normally had an NT1 on the side.
Q: Can I take Nature-Throid or Westhroid Sublingually?
A: Although the manufacturer's recommendations do not include taking Nature-Throid or Westhroid sublingually, most patients that we hear from report that they feel better when crushing the tablets and adding a small drop of honey to the crushed formulation, then placing it sublingually in the mouth. This is thought to help any of those with absorption issues because by crushing the tablets the cellulose fillers are theoretically broken down making it easier for your body to absorb the thyroid hormone sublingually. This is not to be taken as medical advice, and  you should always consult your doctor regarding how to take your thyroid hormone and with any questions or concerns you have.
Q: How Much T4 and T3 does a one grain tablet of Nature-Throid or Westhroid have in it?
A: 38 mcg levothyroxine (T4) and 9 mcg liothyronine (T3) for each 65 mg (1 Grain) of the labeled content of thyroid.
Q: I would like to change from Armour Thyroid or another type of thyroid medication to Nature-Throid or Westhroid.  Do you have a conversion chart?
A: Here is the conversion chart from the manufacturer's website for patients who wish to change from one type of thyroid medication to another. Of course, you need to consult with your physician for appropriate dosage.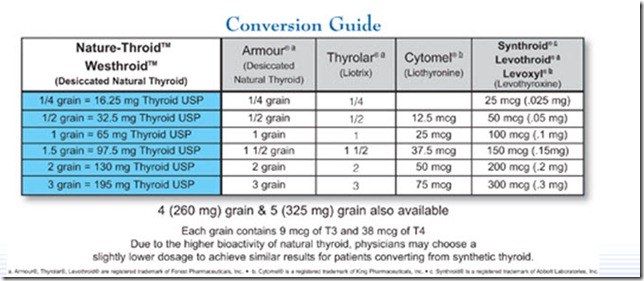 Q: What pharmacies carry Nature-Throid or Westhroid?
A: You should be able to get Nature-Throid at one of your local neighborhood pharmacies. If your pharmacy does not have it in stock, generally they can order it for you.
Q: What Thyroid Medication in the Heat?

A: Since you should always store your Nature-Throid or Westhroid at room temperature (15 degrees Celsius to 30 degrees Celsius (59 degrees Fahrenheit to 86 degrees Fahrenheit) we recommend that if you are having thyroid medication shipped to you that you ask the pharmacy to ship it with an ice-pack especially during summer months when heat exposure could potentially impact the efficacy of your thyroid medication.
Q: How do I contact RLC Labs Directly if I or my physician has questions?
A: You may Call RLC Labs via their toll-free number which is 1-877-797-7997.
As a thyroid patient is is good to know that you have numerous options for choosing the best thyroid medication for you. Since many patients report that they feel much better using a natural desiccated thyroid hormone medication we hope that this article on thyroid medications has been helpful to you.  Westhroid and Nature-Throid are two options for thyroid patients needing a hypoallergenic thyroid medication.