Thyroid patients have been scrambling for many months  now to obtain supplies of natural desiccated thyroid hormone. Since the Forest Laboratories fiasco whereby Armour Thyroid, a Natural Desiccated Thyroid hormone was reformulated, and then became either ineffective for some thyroid patients or in short supply, thyroid patients have worked to come up with alternative thyroid medications to cope with the shortage.
Some patients initially found another Natural Desiccated Thyroid Hormone product Nature-Throid manufactured by RLC Labs, however, there have been shortages of this product beginning around August of 2009, making it difficult for many thyroid patients to obtain natural thyroid hormone instead of the synthetic version.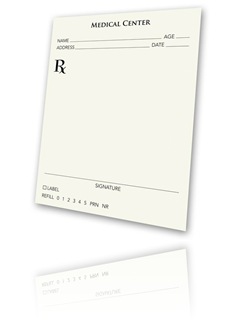 As of Tuesday, January 26th, an employee of RLC labs said that the company had started filling backorders of the one grain strength thyroid hormone tablet, but that it could still take several weeks before the product reaches local pharmacy shelves.
In the interim, what are thyroid patients doing if they take natural desiccated thyroid hormone and are having difficulties in obtaining supplies.
Tips for Getting Your Natural Desiccated Thyroid Hormone Until Manufacturers and Suppliers Catch Up from the Backorders
1. You Can Mail Order the Nature-Throid From Clark's Pharmacy in Carefree Arizona
Phone: (480) 488-2007
(480) 488-2007.  As of the date of this article 1/26/2010 I was told that they had the 65 mg otherwise known as the 1 grain supply of the Nature-Throid Tablets in stock and they will process your order and mail it to you.  Here are the prices I was quoted as of 1/26/2010:
100 tablets of the 65 mg (1 grain) Nature-Throid : $26.50
500 tablets of the 65 mg (1 grain) Nature-Throid:  $132.50
Shipping is a flat rate of $7.00 per shipment
Clarke's Pharmacy
36889 North Tom Darlington Drive
Carefree, AZ 85377
(480) 488-2007
(480) 488-2007
2. Use a Local Compounding Pharmacy: You can call around to compounding pharmacies in your area (pharmacies that can actually customize medications) and see if one in your local city can compound a Natural Desiccated Thyroid Medication for you until the shortage is resolved. Note the cost of having your thyroid medication compounded can be much more expensive then purchasing your tablets from a mail order pharmacy like Clarke's, but it is an option for you if you wish to try a compounded version of a natural thyroid medication.
3. Mail Ordering From Canada: There is a natural desiccated thyroid medication available in Canada called Thyroid, which is manufactured by a company called Erfa.  As the shortage of natural thyroid hormone has continued, there have been many patients who have contacted us and who've begun ordering their thyroid medications from Canada. The medication called "Thyroid" in Canada is reported by many patients to work as well as the "Old" Armour, before it was reformulated.  There are some sources and pricing information on where to get Thyroid Medication From a Canadian Pharmacy in a previous article that I've written.
4. Other tips: If you're ordering from a Canadian Pharmacy or if you're not sure which option you will use, ask your physician to write your thyroid prescription in as broad a manner as possible so that you can refill it or fill your prescription with whatever choice is best for you.
Note:  Prescriptions should be written as :    Natural Desiccated Thyroid Hormone (in Grains) not mg
Ask for the maximum number of refills to be a year if possible.
If your doctor was to write a prescription instead for Armour Thyroid 60 mg, you would not be able to fill your prescription with Nature-Throid if available or you would not be able to order your Thyroid from Canada.  If however, your physician writes the prescription for
Natural Desiccated Thyroid (This means that you can fill the prescription regardless of brand)
(Grains should be used on the prescription not mg)  This way, you can get any brand of natural thyroid medication as some brands have slight differences in mg in terms of the tablets available, but all of them are standard in terms of grains. Which means 1 grain of Nature-Throid is equal to one grain of Armour Thyroid, so get your doctor to write your prescription in grains, not mg.
5. Finally, Fill your Prescription Before you Need it or Run Out: If you are taking thyroid hormone that has been prescribed for you daily it is something you need to have every day. Don't wait until the last minute or base your ordering decisions based upon anything you have read about projected thyroid medication availability. Meaning, that even though RLC labs is saying that they are shipping the 1 grain tablets of Nature-Throid, in my area I could not find even one local pharmacy that had any in stock and none of my local pharmacies knew when they would be getting some in. So, go ahead and make a contingency plan to get your thyroid medication prescription filled with one of the options that works best for you, as it is not good for your health to run out of thyroid medication.
Frequently Asked Questions We've Been asked by Patients Regarding Natural Thyroid Medications
Q: How Do I get my prescription to Clark's Pharmacy?
A: You can ask your doctor's office to call in the prescription directly to the Pharmacy.
Q: What If I already had a prescription at another pharmacy that cannot be refilled right now because my local pharmacy can't get Armour or Nature-Throid?
A:  Just call your pharmacy and ask them if they'd be willing to call Clarke's Pharmacy for you to transfer your prescription. Most will do this for you with no difficulties, but if you run into any trouble, just call your doctor's office and ask them to call in another prescription directly to Clarke's Pharmacy
Q: What if my doctor's office wants me to try Synthroid or synthetic hormone because it's "easier" to get right now.
A: "Easier" for the physician does not mean easier for you.   If you've tried a synthetic thyroid medication before and you had ongoing hypothyroid symptoms like weight gain,  even with good control of your diet and exercise, fatigue, concentration difficulties, constipation, hair loss, cold hands feet (cold intolerance) and low body temperature, dry skin, insomnia, heavy menstrual periods, depression, nervousness and immune system problems, then you may benefit from using one of the natural desiccated thyroid hormone medications or the non-synthetic products.
Q: What if my doctor says that Synthroid or other synthetic products work just fine.
A: The problem or issue with physicians telling patients that synthetic thyroid medications should work just fine is that physicians are educated in most cases about how drugs function by pharmaceutical sales representatives. These pharmaceutical sales representatives have an incentive to "sell" their product. The truth of the matter is that no one, not your physician, the pharmaceutical sales representative, or anyone can tell you how a medicine will affect your body. Since you, are the expert on "YOU", then "You" should be in charge of finding a physician who will work with you on eliminating most of your symptoms and monitoring your lab work, and paying attention to how you "feel" with a thyroid medication. Because everyone is individual and your body will absorb medications differently based upon the fillers used, type of medication, (synthetic vs. non-synthetic) and other factors, if you take thyroid medication you will most likely need to take some time to find the best medication and dosage that works for you.