There's nothing better than a bowl of great tasting soup on a cold day to warm up the body and soothe the soul. But sometimes soup recipes can be full of fat and calories. Not so, with this great tasting, filling, and good for you lentil soup recipe that's not only easy to make, but inexpensive too! Need an idea for a great family meal, or something you can cook up on the weekend, freeze and take to work for a lunch all your co-workers will crave?
Read on, for one of my favorite Lentil Soup Recipes!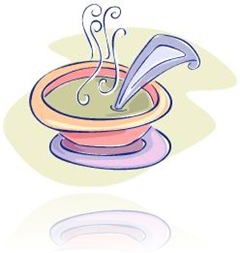 Ingredients:
1 Tablespoon Extra Virgin Olive Oil
1  Medium onion finely chopped
4 Cloves garlic minced
1 Jalapeño pepper, seeded and chopped
2  Stalks celery, chopped
1 Red Bell Pepper, seeded and chopped
4 Large Carrots, chopped
1 tablespoon fresh ginger, grated
1/2 teaspoon cinnamon
1 teaspoon cumin
1 teaspoon curry powder
2 bay leaves
1 teaspoon basil
1 teaspoon oregano
2 cups dried lentils (rinse, sort and remove any debris or ill-formed lentils, then drain)
6 Cups Low Sodium Organic Chicken or Beef Broth
2 Cups Water
1  28 ounce can organic fire roasted crushed tomatoes
2 teaspoons chopped cilantro
1 lime
Sea Salt and Pepper to Taste
1. In a Large Soup Pot, heat the Olive Oil on medium high heat. Add the onions, garlic and jalapeño and saute for a few minutes until softened. Reduce the heat and add celery, carrots ginger, bell pepper and saute for a few minutes
2. Add 6 cups organic chicken or beef broth and 2 cups water into the pot and then add the 2 cups of rinsed and drained lentils.  Add the crushed tomatoes and spices (cinnamon, cumin, curry powder, bay leaves, basil and oregano).   Cook for one hour on low heat or until lentils are soft.
3. Right before serving add 2 tablespoons balsamic vinegar and stir
4. Pour into bowls and garnish with a few sprigs of chopped washed and chopped cilantro. If desired, take a lime slice and drizzle fresh lime over the soup.
Season to taste with sea salt and freshly grated pepper.
The soup is great on it's own or makes a very good sauce over whole wheat low carb pasta.
Another variation is to add in some fresh, chopped, washed spinach about 30 minutes before serving. If you're going to freeze the leftovers in individual containers like I do, then you may want to just add the spinach directly to your bowl before you re-heat the soup.
For anyone looking to lower their cholesterol, lentils are a good option because they pack a punch of cholesterol lowering fiber.  Lentils can also be beneficial for diabetic patients because the fiber in the lentils prevents blood sugar levels from rising too quickly following a meal. Because lentils are low in calories, one entire cup has only 231 calories, and they are filling, lentils can be a secret weapon for dieters to use when planning meals that help them feel full for longer.
Lentils are an excellent source of protein, iron,and calcium, and pack a nutritious punch for both vegetarians and non-vegetarians. You'll also be getting magnesium, potassium and Vitamin A from this delicious legume, and it provides enough energy for your workout or fueling your kids playtime.  Enjoyed this soup? Let us know if you try it and have a healthy day!