Healthy Tips for Eating So that You're not Starving Series
The holidays are rapidly approaching and this year instead of vowing to lose those 10-20 pounds after the holidays wouldn't it be nice if we wouldn't gain any weight and better yet, lose some pounds and inches before the holidays arrive? Who doesn't want to look better in their clothes, or have more energy, or be a more healthy person?  HospitalSoup.com will be sharing some tips and techniques with all of you so that we can all not only survive the holiday season, but approach it with enthusiasm about how we feel, what we are eating, and finally, feeling full without dieting!
In today's HospitalSoup.com's healthy eating tip of the day, I'd like to share with you one of my favorite finds. I just enjoyed a delicious lunch using Whole Wheat Smart and Delicious Tortillas from La Tortilla Factory. What I love about this product is that it allows me to have some carbohydrates without negatively affecting my waistline. And the Low Carb high Fiber versions that I enjoy also contain fiber which helps keep me feeling satisfied for longer. There are two sizes that I use. One is the approximately 9 inch size which is wonderful if you're using them as a wrap with some healthy fajita fixings included, or the approximately 7 inch size if you're using them for a snack. The larger version has 80 calories and 6g of net carbs, 8g of protein,  along with 12g of fiber while the smaller version has 50 calories, 3g of net carbs, 5g of protein and 7g of fiber.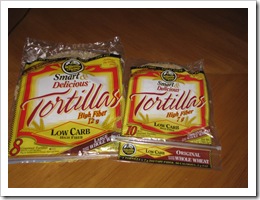 For today's lunch we enjoyed some onions, green and red peppers, and some mushrooms mixed with some skinless chicken breast and combined them together in a pan with just a touch of high quality olive oil.  Once your vegetables and meat has cooked,  heat up your tortilla on the stove in a non-stick pan until both sides are lightly browned. Take off the heat and add your chicken and vegetables, then pile on some fresh lettuce or spinach, I use lots of these low calorie fillers to make a huge fajita, along with a tablespoon of salsa, some fresh tomatoes, and basically  you have a lunch that will keep you feeling full for hours. There are lots of variations you can try for fillings so that you don't get bored, but basically, this is a product you will want to have around for regular eating or those snack attacks where you know you want something filling but don't know exactly what to eat.
These Low Carbohydrate, tortillas are also great to use for dinner as well. If you're in a hurry and what to order them now here's a link to the Large Low Calorie, High Fiber Tortilla, or the smaller size you can order for a snack sized version. I hope you enjoy these as much as I have. If you try them out, leave me a comment to let me know how you liked them. Or if you have a great idea for a filling please share your culinary creations with us!