Cheese and Meat Wraps that Will Make Your Taste Buds Happy and Your Waistline Happier!
If you're tired of turkey and gravy and the leftover turkey sandwiches I have one more quick solution for you today for a filling and satisfying lunch or snack made with either turkey leftovers or any other meat of your choice.
So you all may know one of my favorite ways to get some healthy carbs into my diet is to use the Smart and Delicious Low Carb Tortillas. (Note: as I've written about before, the small size version of these tortillas only has 50 calories and 5g of protein along with 7g of fiber. I always try to include items with a good mix of both protein and fiber as my secret weapon to help stay full for longer!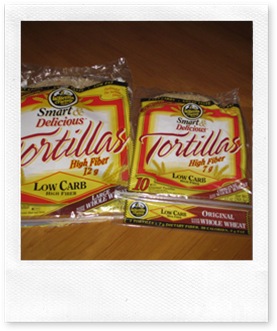 Ok, so what I do is to warm up one of my low carb tortillas. I like to spray a non-stick pan with Pam no calorie spray and then lightly brown the tortilla on both sides. Then I take my tortilla and add leftover turkey, or shredded chicken breast, or tuna. You can substitute any other lean meat of your choice. Add in one of my favorite low fat cheese sticks, the Sargento Cheese Sticks that I've written about here, and then I put my tortilla in my toaster oven on broil for about 1 minute until the cheese melts and I have a delicious meat, and melted cheese meal. If you're feeling really hungry you can use the larger size of the Smart and Delicious Tortillas , they are only 80 calories and are great if you want a slightly larger meal.
Now, be creative and once your tortilla is filled with your meat and cheese, add in some shredded lettuce or cabbage or some sprouts, cucumbers tomatoes etc. Basically load up with vegetables and you'll be adding additional nutrients to your meal and providing yourself with some additional fiber which also helps in the "staying full" department. You can also add either some fat free mayo to your wrap, or some fat free ranch dressing, or some salsa to suit your own personal tastes. Hope you Enjoy!