What's up with grocery stores discontinuing foods that are lower calories items? As obesity rates in the United States continue to rise shouldn't you as a consumer have access to products that are healthier for your family? As our national debate continues about health care insurance coverage for everyone rages on,  what are we doing on a local level to reduce health care costs and look at the issue of obesity?  Medical expenses may have reached $92.6 billion dollars in 2002 as a result of obesity according to data from the Centers for Disease Control. Obesity has an effect on all of us and on the nation's economy.  One of the ways we combat obesity is by starting at home and this begins with the food we all eat.
Sure everyone tells you to eat healthier. That's a given. But if you look below the surface we are not making it easy for those of us who want to feed ourselves and our family with healthy foods. In the middle of one of the more challenging times for our nation's economy you would think that the local grocery store would be more focused on listening to their customers and paying attention to the movement for more and more Americans to eat smart and more healthily.  One of the areas that is finally being addressed albeit slowly is our school lunch program. I mean how can your child be expected to lose weight or maintain a healthy weight if kids are fed high fat, low nutrient foods that promote hunger, insulin spikes and weight that accumulates in their abdominal area which is the most dangerous place to store excess poundage? So the same premise exists with your local store.  The next time you shop pay attention to products that one grocer carries versus other ones in your area, and what you find may surprise you.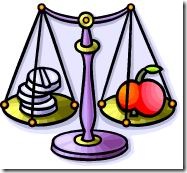 Why am I writing about this today you may ask? Well, for the past few years I've noticed a few things as I've shopped. You may say that I've become a  "shopping expert" when it comes to uncovering low calorie items that taste great and help you stay full longer, so I've read thousands of labels on products and uncovered items that help both myself and  clients lose or maintain their desired weight, without struggling or feeling deprived. So it's always been more difficult to find the right products for some of my recipes or classes. I mean, I have had to visit at least two separate grocers in my area because only one of them carries fat free ricotta cheese and some of my favorite fat free yogurt.  And I've had discussions with several family members about how "strange" it always is, after several years of shopping for "healthy" items, that the healthy choices I always want to buy and are trying to find are always very low in stock. So look out if you're shopping after me, because I have a habit of "stocking" up on some popular items, and have been known to buy 10 packages at once on certain things so that I'll have them on stock for some of my healthy eating classes. And then one day a few weeks ago I stumbled upon the tortilla aisle and found almost every selection available known to man piled high on the shelves except for what I was looking for. I finally, finally, found ONE more large size of the Smart and Delicious Whole Wheat High Fiber Tortillas and it was hidden at the very bottom of a pile almost an entire grocery aisle high. One more left, and I grabbed it, feeling like I had snagged the last one of a favorite toy for Christmas at one of the after Thanksgiving Sales. I've continued to look for more of the large size at one of my local grocers, and it's still not back in stock so  I guess they haven't restocked that one either, but there are so many white flour tortillas staring at you as you walk past the aisle that it is blinding to the eye. Now, in the grocer's defense, they still stock some of the small size Tortillas that are low carb high fiber, but I guess the person responsible for ordering (probably a man) doesn't understand that you need a larger tortilla in order to stuff your tortilla with all kinds of great healthy ingredients that won't fall out.
But the last straw for me came when a local grocer in my area all of a sudden decided to stop carrying one of my favorite cheese snacks. See, I love cheese, and it is soooooo difficult to find one that actually tastes good if it is low fat. And I had uncovered a great one and have written about it several times because I wanted to share with you all that you can actually have your cheese and lose weight. So my favorite cheese stick is no longer in one of my local stores. Even though the stock was always lower when I went in then any of the other brands, and I would personally take an embarrassing number of packages off the shelves if they were fully stocked so that I would have samples for some of my classes and I didn't want to run out. Ok, no problem I thought, I would just contact the other store in my area.  Since Randall's/Safeway no longer had it and they have not been known to have a good supply of healthier choose items anyway I thought I'd contact HEB, otherwise known as "Here Everything's Better."  First of all I called and asked to speak with the ordering manager for the cheese products a few weeks ago and was told that the person I needed to speak to wasn't in, but one of the other managers patiently took down my phone number and information and promised to have the other manager contact me about getting in the healthy cheese snacks that were so popular with all of my clients and my personal favorite.  Well, after two weeks, no one called, so this morning I thought I would follow up. I did manage to contact the appropriate "ordering manager" but he didn't know why they didn't carry the item but promised to "check" and get back to me. To his credit he did get back to me a few hours later, but the news was not promising. Apparently, there is some man in San Antonio who is responsible for ordering products for the HEB grocery line who said they would not order the product again because it was not a top seller for them. I said, "hmm, that's interesting, I was sending everyone to the other grocer for the past several years to get this product because I could never find them at HEB. Come to find out it had been more than 2 years since they carried the item and weren't interested in trying it again or helping me, even though it was in high demand.
So let's think about a few things.
* Two years ago, maybe there wasn't such an emphasis on choosing healthy foods and the demographics in my area have changed fairly substantially.
* With more educated consumers these days people  are shopping differently
* If you are trying to keep your calories to 1,000 or even 1500 a day, then every calorie matters.  With the Sargento Reduced Fat Sharp Cheddar Cheese Sticks they are only 60 calories, and actually taste like Full Fat Cheese. There are other brands which I won't mention by name which have double the calories 120 with others having varying amounts, but for someone watching their weight this means that you could have two of the Sargento Reduced Fat Sharp Cheddar Cheese Snacks as opposed to one of the others if you were really hungry. And obviously, you would only have one in a typical scenario at a time, but I hope all you other folks who are concerned about your waistlines are getting the significance of a snack that has 1/2 the calories of some other brands.  And the Sargento brand is the only one that I have had hundreds of clients say they also love. Some of the other brands taste like cardboard, but try the Sargento if you can find it—it is really good!
So here is a challenge to the people who are ordering products in our grocery stores. We want good quality, lower calorie choices in our stores. Don't make us look at the bottom of the barrel for items that are healthy, and don't have short supplies of the healthy items with plentiful stocks of the high fat, high calorie items that always seem to be in abundance on our shelves. Help us make healthier choices for our family and for ourselves when it comes to feeding our families. And don't assume that something that didn't sell well in years before won't do well now. It is important for us to have lower calorie selections for our children's lunches, snacks, and meals, and we will patronize your store if you provide us with these healthy options. If you're a grocery manager and in the Austin area please contact us if you would like to have some regular customers who purchase the Low Fat Cheddar Cheese Sticks on a regular basis. We miss them and want to be able to purchase them locally!
And if you are a reader, please let us know what the situation is with your local grocery store.  Are you able to find lower calorie options easily or do you also struggle with these same issues?