Everyone knows when a big storm is forecast one of the first things that happens is that there's a mad rush on the grocery store. Supplies are flying off the shelves including bread, milk, and toilet paper. But what do you do if there's a possibility that you'll need to eat and you won't have any power?  And how do you plan if you're in the midst of trying to eat more healthy foods yet your selection is limited because the last thing you can do if there's a big snowstorm is head out to buy fresh fruits and vegetables.
After living through several large hurricanes and dealing with the after effects of losing power, sometimes for a few weeks, I decided that there must be something better than peanut butter and jelly sandwiches. I mean, you can only eat so many sandwiches and even if you're using a high fiber, low calorie bread, it can rapidly feel too much sugar flooding your system and I know it makes me yearn for some real food. So today, I'm going to share with you one of my "survival" foods.
A Survival Food,   in my opinion has to meet the following criteria:
1. It must be non-perishable, meaning that it does not need to be refrigerated and you can keep it in your cupboard
2. It must be reasonably healthy: meaning, not too high in calories, fat, or sodium.  And it must provide a good source of protein, which is one of my secrets for choosing foods which not only nourish the body, but keep you feeling full for longer.
3. It must be easy to prepare: If the power is out, I look for foods that don't require cooking on a stove, but rather, something that could be heated up using a camping stove, or stove over the fireplace, or a propane burner.
4. It has to taste good: I know that if you're out in the middle of the wilderness with no food and no time to prepare that you'd probably settle for just about anything. But I figure that I should always have some survival food stocked in my cupboard, and since I have time to prepare, I might as well choose something that I like and that tastes good!
I bet you're probably wondering what I've chosen as my survival food to share with you today. Ok, here it is:
Madras Lentils: A mixture of Red Beans and Spices in a Creamy Tomato Sauce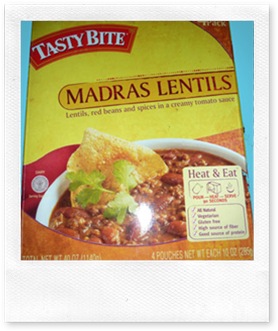 What I love about the lentils and this product is that it doesn't require any cooking or refrigeration, it tastes great, and most of all, it doesn't break the calorie bank on my diet! With 120 calories per serving, and 6g of protein, this is a must-have staple for my cupboard and it works well not only in the winter when you need something warm to fill you up, but also works great in the summer over some lettuce to make a nice taco salad.
The product comes in individual pouches that simply have to be warmed up in a pain of boiling water, and even with a power outage you can boil water using the camping stoves or other alternatives, so you don't need electricity to prepare this meal. If you're in a hurry and want to order some, here's a link where you can purchase them online.
A few other tips and suggestions: If you have an extra can of black beans you can heat those up and mix them with the lentils, or even add kidney beans or other beans of your choice for some extra protein and to stretch the meal and make it serve more people. If you still have fresh foods in your refrigerator or you're enjoying this meal when your power is still on, you can also include some steamed carrots, or other veggies in the base mixture, and it is especially delicious with a little salsa and/or some fresh cilantro. Some of my family members like to mix in a little bit of fat free cheddar cheese to melt on top, or even some parmesan cheese. So use your imagination, these lentils in the sauce is a great staple to have on hand for life's little or big emergencies, or even for every day enjoyment.
Stay healthy and safe and let me know what you think if you try this meal!