Vegetable List for those Days when you need some variety in your choice of vegetables
One of our readers wrote in and asked for some ideas of vegetables she could incorporate into a healthy diet. Not all vegetables are created equal, but we wanted to share a list of healthy veggies and post them along with their calorie counts so that you all can refer to them when you are needing some additional ideas for what vegetables to cook for dinner. I know I get in a veggie "rut" sometimes and use this list to think of delicious healthy vegetables that add lots of flavor and taste to my meals, yet don't pack on the weight.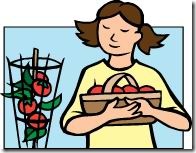 Here is a vegetable list of veggie choices you can have that are 5g carbs, 2g protein and 25 calories. Serving sizes for these low calorie vegetables are also listed below.
Tip: I always add a 4 ounce serving of organic chicken breast, Tilapia, Fresh non-farmed salmon, or other healthy protein to my veggie servings which helps keep me feeling full for longer. The vegetables provide color, nutrients, and fiber to my meal, while the protein helps me feel full and stay full for many more hours than if I would have just eaten vegetables alone! Hope you Enjoy the veggie list.
25 Calorie Vegetables: 5g carbs, 2g protein
Artichoke, whole 1/2 large
Artichoke Heart 2 pieces canned (not marinated)
Artichoke (Jerusalem or Sun choke) 1/4 cup
Asparagus 1/2 cup Cooked or 1 cup Raw
Bamboo Shoots (Canned, diced) 1 cup
Beans (Green, Wax, Italian) 1/2 cup Cooked or 1 cup Raw
Bean Sprouts 1/2 cup Cooked or 1 cup Raw
Beets 1/2 cup Cooked or 1 cup Raw
Bell Peppers (All Varieties) 1/2 cup Cooked or 1 cup Raw
Bok Choy, Chinese Chard, White Mustard 1 cup cooked
Broccoli 1/2 cup Cooked or 1 cup Raw
Brussels Sprouts 1/2 cup Cooked or 1 cup Raw
Butternut squash ¾ cup = 2 veg serv
Cabbage 1/2 cup Cooked or 1 cup Raw
Cactus Leaves (Nopales) 1/2 cup
Carrots 1/2 cup Cooked or 1 cup Raw
Carrot Juice ¼ cup (2 fl. oz)
Cauliflower 1/2 cup Cooked or 1 cup Raw
Cherry Tomatoes 6-Apr
Chinese Cabbage 2 cups shredded raw, 1 cup shredded cooked
Chinese Eggplant 1/2 cup
Collard Greens 1/2 cup Cooked or 1 cup Raw
Daikon (Chinese Radish) 1 cup fresh
Dandelion Greens (Boiled) ½ cup
Eggplant 1/2 cup Cooked or 1 cup Raw
Fennel 1/2 cup Cooked or 1 cup Raw
Green Beans 1/2 cup Cooked or 1 cup Raw
Greens (Collard, Kale, Mustard) 1/2 cup Cooked or 1 cup Raw
Hearts of Palm 2 sticks
Jalapeno 4 peppers
Jicama, raw ½ cup
Kale 1/2 cup Cooked or 1 cup Raw
Kohlrabi 1/2 cup Cooked or 1 cup Raw
Leeks 1/2 cup Cooked or 1 cup Raw
Mixed Vegetables (without Corn, Peas, Turnips) 1/2 cup Cooked or 1 cup Raw
Mushrooms 1/2 cup Cooked or 1 cup Raw
Mustard Greens 1/2 cup Cooked or 1 cup Raw
Okra 1/2 cup Cooked or 1 cup Raw
Onions 1/2 cup Cooked or 1 cup Raw
Pea Pods 1/2 cup Cooked or 1 cup Raw
Pimento 2 medium or ½ cup
Pumpkin, mashed ½ cup
Radishes 1 cup Raw
Rhubarb 1 cup
Rutabaga 1/2 cup Cooked or 1 cup Raw
Sauerkraut, canned ½ cup (High in Sodium)
Snow Pea Pods 1/2 cup Cooked or 1 cup Raw
Spinach 1/2 cup Cooked or 1 cup Raw
Sprouts (Alfalfa, Bean, Soybean) 1 cup raw, ¾ cup cooked
Spaghetti Squash 1 cup raw, ½ cup cooked
Sugar Snap Peas 1 cup raw, ½ cup cooked
Summer Squash 1/2 cup Cooked or 1 cup Raw
Tomato 1/2 cup Cooked or 1 medium raw
Tomato Canned 1/2 cup
Tomato Paste 1 Tbsp
Tomato Puree 1/4 cup
Tomato Juice (low sodium) 1/2 cup
Tomato Sauce 1/3 cup
Turnips 1/2 cup Cooked or 1 cup Raw
Vegetable Juice (low Sodium) 1/2 cup
Yellow Snap Peas (Frozen) ¼ cup
Yellow Squash 1/2 cup Cooked or 1 cup Raw
Water Chestnuts (canned
Zucchini 1/2 cup cooked or 1 cup raw