This time of year brings numerous challenges. From the office party to the food gifts that well meaning friends or neighbors may send you. What's a person to do? Well first of all, avoiding temptation is easier if you incorporate a few tips into your routine. Here is some help you can use right away.
1. Eat a good breakfast. Your metabolism is higher in the morning so you are able to eat more in the morning than any other time of day. Researchers from Virginia Commonwealth University found that obese women who consumed a 600 calorie breakfast lost approximately 40 pounds in eight months, while those eating smaller breakfasts lost only 9 pounds. Your breakfast should contain a combination of protein, good whole grain carbohydrates, and healthy fat which will help you stay feeling full for longer.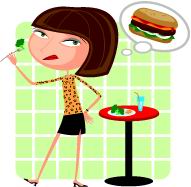 2. Substitute Vegetables for Meats in Some of Your Meals: In another University Setting, Johns Hopkins researchers found that adding in mushrooms as a replacement for meat caused participants to eat 42 percent fewer calories than those who ate simply meats alone. On my plate I always start for example, with a bed of vegetables, then add some whole grain pasta with chicken, or add in broccoli, carrots, or other vegetables to my meals.
3. Be careful of "Diet" Foods, especially those that are processed. Having a protein bar for lunch may sound like a good idea in theory, but in reality many of the bars or snacks leave us longing for real food and unsatisfied. This, can set us up to overeat at the next meal, especially if we're still hungry. You're much better off having a huge salad, adding in cooked vegetables to your meal along with a lean protein and then if you're still hungry, having a bite or two of the food you're actually craving. Because you first ate a "real meal" you are much less likely to overeat on dessert or snacks.
4. Write it down: Keeping a food journal is one of the most important things you can do to achieve success and stability with your weight. Most of us overestimate our activity and underestimate our eating, so write down everything you consume each day and you'll be less likely to overindulge.
5. Add in Fiber: High fiber foods are important for many reasons but I call them "the Dieter's Best Friend" because they are crucial for helping reduce your appetite and definitely help with the feeling full factor.
6. Increase your Exercise: Get a pedometer and count your steps. Aim for at least 10,000 steps a day. If you normally park close to the entrance of the store, park further away. Take the stairs instead of the elevator. Get at least 30 minutes of exercise into your day where your hear rate is in your target heart zone, and just keep adding in as much physical activity into your day as you can. Getting your heart rate up and spending time on exercise not only helps you get fit, but it helps your mood and confidence as well. So get moving !
7. Don't forget to include snacks throughout your day. In between meals it's important to have healthy snacks. This keeps your metabolism boosted, gives you a continuous source of energy, and helps you avoid hunger. Have some healthy snacks with you at all times so that you're not "stuck" eating something unhealthy. Have a plan and include your snacks in your plan so that you can be successful with your weight loss goals. (Some snacks to consider: 15 almonds is 115 calories, an apple with a teaspoon of low sugar peanut butter, low fat string cheese, Sargento Reduced Fat Cheddar Cheese sticks are only 60 calories)
Even during the holidays you can keep control of your weight if you have a plan and follow it. If you start now, you'll be well on your way to eating healthier and you won't have to wait until New Years' to resolve to live a healthier life.