Eating Healthy Foods while Eating Out Can Be A Challenging Task
The key is to be aware of the things that can happen in restaurants, and to arm yourself with strategies to avoid sabotaging your diet.
While the food in restaurants can be quite tasty, and it's great not to have to prepare your food all the time, there are "hidden" elements lurking in many restaurant offerings that are not only dangerous to your diet success, but also enemies to your heart health.  Certain ingredients, particularly saturated fat and sugars, are extremely detrimental, but how do you know which choices are healthy for you?
Many restaurants are now posting their calorie counts for either certain menu items or all their menu items online. And some restaurants offer low-calorie or heart healthy items on their menu. It is important to make sure that even if an item is listed as heart healthy or low calorie, that you read the full nutritional information that is provided before making your selection as sometimes items can be labeled as lower calorie, but in reality still be a bad choice.  Use restaurants which disclose the complete components of their heart healthy or lower calorie items.
Normally when people are dieting or trying to lose weight, one of the first things that they look for is a salad section on a restaurant menu. But did you know that some of the salads contain more fat and calories than many of the fast food items that we are so frequently taught to avoid?
I had the chance to eat at Mimi's Cafe which is a chain restaurant that has a variety of selections and is located close to a mall in my area. And one of my "habits" is to find out in advance about calorie counts and nutritional information on restaurants before I even arrive. I was stunned to find out that one of their salads, which sounded so delicious had such a high calorie count. And of course, I wanted to share that information with you all, so that you don't walk into a restaurant situation unprepared.
Now, to their credit, Mimi's does include the nutritional information for most of their items on line, however, the calorie count was not on the menu for an item that looked particularly appealing, and one that you may think would be a healthy choice. NOT!  The Salmon Provence Salad is described as having the following ingredients:
"Mixed greens, cucumbers, feta cheese, egg and diced tomatoes, tossed in low-fat citrus vinaigrette, topped with a grilled petite salmon fillet, marinated artichokes and red potatoes."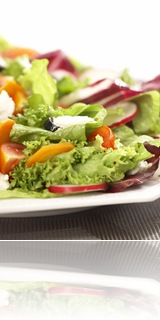 Sounds delicious right? And notice how many "buzz" words are used to make us think that this item is healthy. I mean who wouldn't think that a grilled salmon fillet and a low-fat citrus dressing wouldn't be healthy for you?  The trouble is that this particular item is listed as having 977 calories! This is almost an entire days worth of calories for some people if they are dieting.
Incidentally, the Grilled Meatloaf and Gravy Entree at Mimis which includes mashed potatoes and fresh vegetables is listed on their website at having 493 calories, which is a more respectable number for a dinner entree.
So the next time someone in your family or a friend asks you to go out for a meal, make sure to do some research in advance to find out if the restaurant discloses their nutritional information of their food. It could not only help you to maintain or lose weight, but your heart health will also benefit when you understand the facts about what you are eating.