It is possible to enjoy eating bread and lose weight. The key is to choose wisely and to find a type of bread that doesn't spike your blood sugar and has healthy ingredients. It's an added plus if it also tastes good too and in today's post I'll share with you my favorite bread for the after the Holiday Turkey Sandwiches.
If you celebrated and cooked on the Thanksgiving Holiday, you may still have lots of turkey that is left over. A great way to enjoy leftover turkey is to have it on a sandwich. But if you're watching your weight, then some of the more popular diet plans insist that all breads or carbs should be either cut out or cut down. I've never been able to be successful doing the very low carb type diets. In fact, diets for me, never seemed to work, and after years of trying almost every known diet known I've given up on diets and spend my time now coming up with healthy substitutions for all my favorite foods.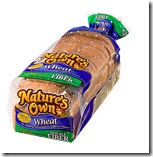 So if you're like me and enjoy eating bread but don't want the extra calories and blood sugar spikes that can go along with eating some types of bread, check out the Nature's Own Double Fiber Wheat Bread. 
This bread is really good for turkey sandwiches. I like to toast mine in a toaster oven and then put on just a small amount of fat free mayo with lots of lettuce and spinach and enjoy with one of those crunchy deli-style pickles. The Nature's Own Double Fiber Wheat bread has twice the fiber of a typical loaf of bread and only has 40 calories per slice. The fiber will help fill you up, and of course if you add some type of protein on your sandwich like turkey, you will stay feeling full for longer.